More Articles
Medicaid Program
Medicaid Annuities
Medicaid Application Process
Medicaid Benefits
Medicaid Coverage - Mandatory
Medicaid Coverage - Optional
Medicaid Dental Coverage
Medicaid Disability
Medicaid Drugs
Medicaid Eligibility
Medicaid Nursing Home
Medicaid Providers
Medicaid & Health Care Reform
State Medicaid Programs
State Medicaid Programs List

News Headlines
Medicaid Disability
Applying For Medicaid Disability
If you have a medical disability and are in need of financial help you should fill out a Medicaid application because you may be eligible for Medicaid disability benefits.
If you have a disability, you may receive benefits from Medicaid if the source of your disability benefits is title 16, or Supplemental Security Income (SSI). Medicaid disability is a "needs-based" program that provides benefits if you have limited family assets and low income.
If the source of your disability benefits is title II, Social Security, then you will receive Medicare benefits. Some people with disabilities may be approved for concurrent benefits meaning they will be able to get disability coverage from both Medicaid and Medicare.
Whether you were injured off or on the job, you might be eligible to get medical assistance from Medicaid. If you do not qualify for medical disability from your job, you might still be able to get Medicaid disability depending on your financial situation and how badly you have been injured.
The process of applying for Medicaid disability is a straightforward process. We provide you the main steps to apply for Medicaid disability assistance. Since Medicaid is administered by the state, the Medicaid applications might differ, but the process is similar.
To Apply For Medicaid Disability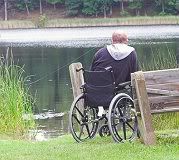 1). You should locate the website for the Medicaid office in your state as a starting point. As we mentioned, Medicaid is different in every state and you will need to fill out the Medicaid application for the state in which you live. If you want, you can also get an application from your local Medicaid office.
2). You need to fill out the Medicaid application. In order to be prepared, you should have the social security number and date of birth for you and all the members of your household. You will also be required to list your household income which includes that income from your spouse.
3). Complete the Medicaid application correctly and completely. Make sure that you completely fill out the section that asks about your medical disability.
4). You can then mail or Fax your Medicaid application to the Medicaid office that is on the bottom of your application. If you prefer, you can also take your application back to the Medicaid office.
5). You will need to get your financial papers and documents together in preperation for an interview with a Medicaid case worker. The financial documents you must have include your tax returns from last year, check stubs, and bank statements.
You will also need to prove that you live at your address and this can be done with a phone or utility bill. Since you are applying for Medicaid disability, you will need to gather all of your medical records that are related to your disability. This includes doctors and hospital reports. Finally, you will need your driver's license or state ID, and a copy of your birth certificate.
6). You will have to complete an interview either in person or on the phone with a Medicaid case worker. They will ask you questions about your medical disability, financial situation, and how much money you spend on food and other bills every month.
Following your interview, the case worker will probably ask you to submit your medical and financial documents. The case worker will review your documents and you will then be notified by mail if you are eligible for Medicaid. You will get a Medicaid card if you meet the Medicaid disability requirements.
7). If you do qualify to receive Medicaid for your disability, remember to fill out your renewal application every year or your Medicaid coverage will be cancelled.
Medicaid Buy-In Program for people with disabilities that continue to work: The Medicaid Buy-In program can provide Medicaid coverage to people with disabilities who are working and are earning more than the allowable limits for regular Medicaid.
This programs allows you the ability to keep your health care coverage through Medicaid. The Medicaid Buy-In program allows working people with disabilities to earn more income without the risk of losing your important health care coverage.
To be eligible for the Medicaid Buy-in Program for Working People with Disabilities, to need to be a resident of the State for which you are applying, be between the ages of 16-65 years, have a disability as defined by the Social Security Administration (SSA), have full or part-time work, have a gross income that doesn not go above the state maximum limit, have non-exempt financial resources that do not exceed the Medicaid resource level.
MedicaidProgram.net is an information website owned by What Is It LLC.
Learn more about What Is It at MyWhatIsIt.com... "We Simplify The Complex".

The official U.S. Government Medicare Web site is cms.gov.
© 2013 |
Privacy Policy
| Powered By
|