More Articles
Medicaid Program
Medicaid and Affordable Care Act
Medicaid Annuities
Medicaid Application Process
Medicaid Benefits
Medicaid Coverage - Mandatory
Medicaid Coverage - Optional
Medicaid Dental Coverage
Medicaid Disability
Medicaid Drugs
Medicaid Eligibility
Medicaid Nursing Home
Medicaid Providers
Medicaid & Health Care Reform
State Medicaid Programs
State Medicaid Programs List

News Headlines
Medicaid Drugs
Medicaid Prescription Drug Coverage
Medicaid Prescription Drugs
Medicaid costs are increasing because health care costs including prescription drugs continue to increase. In order to address the situation regarding prescription drugs, several Medicaid programs were created to help manage prescription drug cost and safety.
The Medicaid Drug Rebate Program is a program in the United States that was created by the Omnibus Budget Reconciliation Act of 1990 (OBRA'90). It requires that drug manufacturers have a national rebate agreement with the Secretary of the Department of Health and Human Services (HHS) in order for states to receive Federal Medicaid coverage of their products.
In 2007, 550 pharmaceutics companies participated in the Medicaid Drug Rebate Program and 49 states in addition to the District of Columbia supply drugs under the Medicaid Drug Rebate Program.
In order for manufacturers to be eligible for Medicaid coverage a rebate agreement must be signed with Centers for Medicare and Medicaid Services.
The Medicaid Drug Utilization Review (DUR) Program was created by the Omnibus Budget Reconciliation Act (OBRA) of 1990. The main emphasis of this Medicaid program is to promote patient safety by an increased review and awareness of outpatient prescribed drugs.
States were encouraged by enhanced federal funding to design and install point-of-sale electronic claims management systems that interface with their Medicaid Management Information Systems (MMIS) Operations.
Lowering State Medicaid Prescription Drug Costs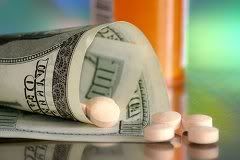 Due to the rise in the cost of prescription drugs, State Medicaid programs have implemented some best management practices to try and reduce the cost of prescription drugs.
* Generic Drug Subsitution Policy - All generic drugs that have been approved by the FDA must meet all the same standards as brand-name drugs.
While generic drugs are essentially the same as brand-name drugs, there is one difference, and that is cost. Generic drugs can typically cost 1/4 the price of the same brand-name drug.
The potential cost savings of generic drugs has caused a majority of the states to require that the generic version of the drug be dispensed when available.
* Supplemental Drug Rebate Agreements - Individual states may pursue additional Medicaid supplemental rebates along with the national drug rebate agreement.
States may negotiate their own rebate agreements or join with other states and set up a multi-state rebate agreement. Several states together increases the purchasing power and usually results in large Medicaid drug rebates and discounts.
* Disease Management Programs - These programs are designed for states to improve care and reduce overall costs by using more appropriate medications for Medicaid patients with chronic illnesses.
By closely monitoring appropriate use of drugs for these patients, pharmacy costs will increase, but overall Medicaid savings will be realized through less hospitalizations and emergency room visits.
* Electronic Transmission of Prescriptions (E-Prescribing) - Florida was the first state to provide doctors with hand-held devices that displayed the Medicaid preferred drug list so that it was easier for doctors to prescribe those prescription drugs that were on the preferred list.
In addition to the list of drugs, patient histories, and adverse drug reactions were added to the devices. The goal was to improve medical care, reduce Medicaid costs, and try to prevent drug abuse and fraud.
MedicaidProgram.net is an information website owned by What Is It LLC.
Learn more about What Is It at MyWhatIsIt.com... "We Simplify The Complex".

The official U.S. Government Medicare Web site is cms.gov.
© 2013 |
Privacy Policy
| Powered By
|